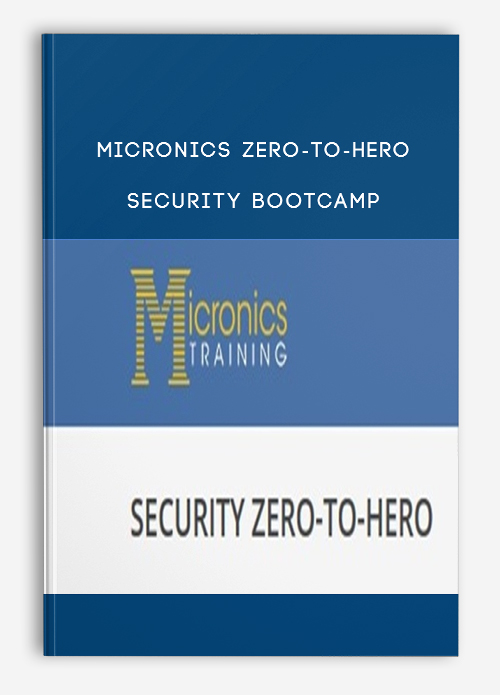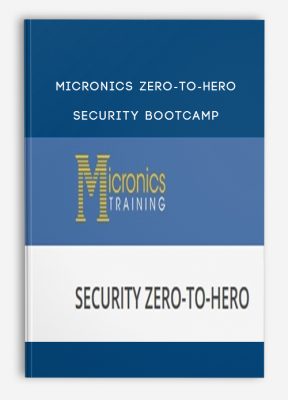 Micronics Zero-To-Hero Security Bootcamp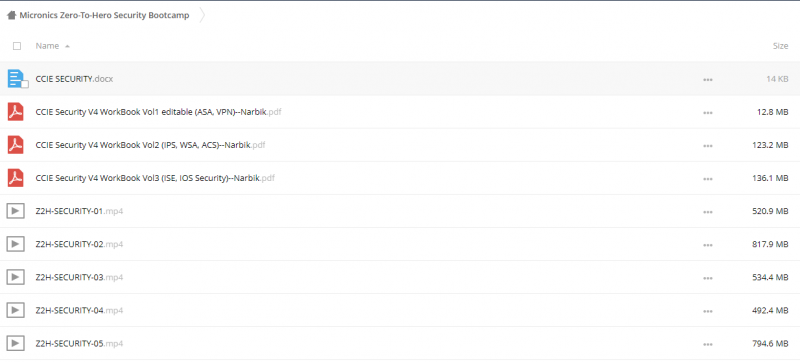 This Zero-to-Hero Security class is developed to give students a quick and effective overview of Security track. It will cover security architecture, technologies, products and solutions that can be used in day-to-day work. Upon completion of this course, learners should have knowledge of ASA, FirePower, WSA, ESA, ISE, BYOD, TrustSec, AnyConnect, AAA, FlexVPN and DMVPN.
Course Delivery Method:
This boot camp is delivered online via Webex. Sessions will be recorded and made available to watch online, videos will be available for up to 30 days after the course has been completed. Lab access will last for the duration of the course.
Students Will Receive:
Advanced CCIE Security Workbook v4 (Technology Focused)
Boot Camp Hours:
8:00 AM – 4:00 PM Central Standard Time (Saturdays Only)
Follow On Certification:
CCIE Security Boot Camp
More info:
Week 1
Class Introduction
LAB Topology
Class Agenda
Basic Student Assessment
Security Certification
Cisco Security Architecture
Network Security – ASA
Basic ASA Configuration
ASA Management
ASA Deployment Scenarios
ASA Traffic Flow
Week 2
Network Security – ASA
Dynamic Routing (RIP, OSPF, EIGRP, BGP)
NAT
Modular Policy Framework (Inspection Policy)
Virtual Firewall
Active/Active Failover
Transparent Firewall
Threat Detection & Botnet Traffic Filtering
QoS
ID Firewall
Firewall Clustering
PBR on ASA
Get Micronics Zero-To-Hero Security Bootcamp on Salaedu.com
Week 3
Network Security – Next Generation Firewall (NGFW)
Introduction to FirePOWER
FirePOWER on ASA
FirePOWER Traffic Flow
Device Management
Object Management
Access Control Policy
AD Integration
Week 4
Network Security – Next Generation Firewall (NGFW)
FireSIGHT Technology
File Detection and FireAMP
IPS Policy and Preprocessors
SSL Decryption
Correlation Policies
Event Analysis and Reporting
Week 5
Network Security – VPN
IPSec theory
PKI
VPN types and modes
Configuring Site-to-Site VPNs
Week 6
Network Security – VPN
EasyVPN for S2S VPN
DMVPN
Week 7
Network Security – VPN
GET VPN
IKEv2 theory
FlexVPN
Week 8
Network Security – Remote Access VPN
EasyVPN (DVTI)
SSL VPN theory
Clientless VPN
Week 9
Network Security – Remote Access VPN
Introduction to AnyConnect
Mobile User Security
VPN Load Balancing and HA
Week 10
Content Security – Web Security
Web proxy deployment modes
L4TM
User Identity & Authentication
Web Security Policies
URL Filtering
Bandwidth Control
Application Visibility & Control (AVC)
Content Security – Web Security
SSL Decryption
Outbound Data Security
Week 11
Content Security – Email Security
How SMTP works
SMTP Relay deployment
ESA Packet Flow
Reputation Filters
Message Filters
Anti-Spam & Anti-Virus
Content Security – Email Security
Content Filters
Outbreak Filters
Data Loss Prevention (DLP)
Email Encryption (CRES)
Week 12
Secure Access – AAA
Introducing to AAA
Setup AAA Clients
Using TACACS+ for Administrators
Using RADIUS for Network Access (802.1x)
Introducing to Cisco ISE
AD Integration
Configuring MAB
Week 13
Secure Access – AAA
Configuring Wired 802.1x
Configuring Wireless 802.1x
Guest Access
Device Profiling
BYOD & MDM
L2 Security
Week 14
Network Security – Routers
Router ACL
Configuring Zone-Based Firewall on Router
Router Hardening
Configuring NAT on Routers
NetFlow and Traffic Monitoring
Week 15
All-in-one LAB #1
Week 16
All-in-one LAB #2
Get Micronics Zero-To-Hero Security Bootcamp on Salaedu.com
Internet Marketing Course
Digital marketing is the component of marketing that utilizes internet and online based digital technologies such as desktop computers,
mobile phones and other digital media and platforms to promote products and services. Its development during the 1990s and 2000s,
changed the way brands and businesses use technology for marketing. As digital platforms became increasingly incorporated into marketing plans and everyday life,
and as people increasingly use digital devices instead of visiting physical shops, digital marketing campaigns have become prevalent,
employing combinations of search engine optimization (SEO), search engine marketing (SEM), content marketing, influencer marketing, content automation,
campaign marketing, data-driven marketing, e-commerce marketing, social media marketing, social media optimization, e-mail direct marketing, display advertising,
e–books, and optical disks and games have become commonplace. Digital marketing extends to non-Internet channels that provide digital media, such as television,
mobile phones (SMS and MMS), callback, and on-hold mobile ring tones. The extension to non-Internet channels differentiates digital marketing from online marketing.
More Course: INTERNET MARKETING
Outstanding Course: https://salaedu.org/product/the-big-escape-plan-by-tanner-larsson/