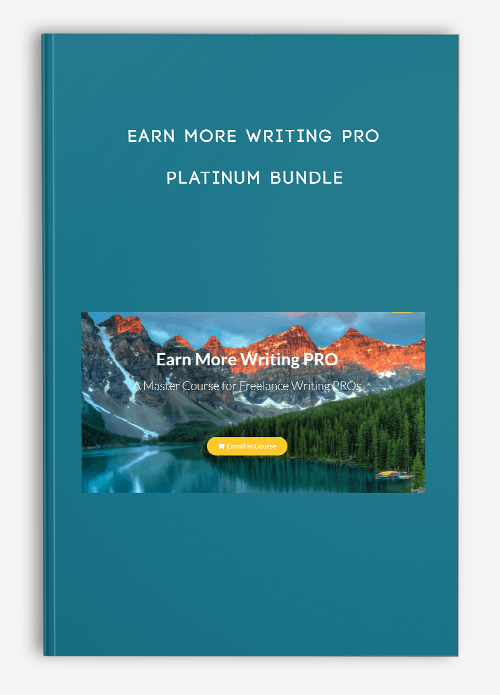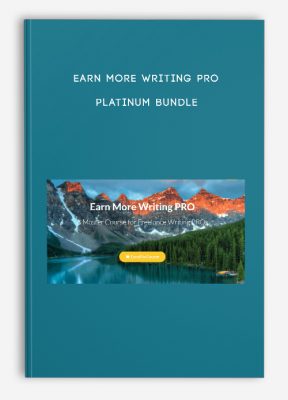 Earn More Writing PRO Platinum Bundle
Sale Page
Archive Page
Get Earn More Writing PRO Platinum Bundle on Salaedu.com
Description:
A Master Course for Freelance Writing PROs
Take Your Writing Career to the Next Level
Ready to take the next step in your freelance writing career? You're in the right place!
My name is Holly Johnson, and I'm a professional blogger and columnist who makes over $225,000 a year through freelance writing. You can find me writing for websites like The Simple Dollar, LendingTree, Bankrate, U.S. News and World Report Travel, Fodor's Travel, and more. Plus, I travel about 12 weeks a year. So, yeah, I get around!
My flagship course, Earn More Writing, has helped hundreds of beginners launch successful freelance writing careers while teaching established writers how to earn even more money. It provides a fantastic foundation for anybody who wants to earn a living as a freelance writer. I highly recommend you check it out if you haven't already.
But, enough about the original.
Earn More Writing PRO is a master course in online freelance writing, diving deeper into the issues that can help set you apart from the crowd. We'll tackle the most common questions left unanswered by the orginal Earn More Writing – including how to master different types of online content, how to properly source your articles, productivity and bookkeeping hacks, how to have important (but difficult) conversations with clients, and much more.
So, if you're ready to improve what you're worth, add more value, and take your writing career to the next level, it's time to get started with Earn More Writing PRO!
Earn More Writing PRO is the course for professional freelance writers who want to stand out from the crowd and become the freelancer clients love!
Earn More Writing PRO will teach you how to advance your online writing career by becoming a more professional and valuable freelancer. In this course, you'll learn how to:
Master different types of online content
Properly research and source your articles
Increase your productivity to earn more money
Add incredible value to make yourself indispensable
Find and keep the most desireable clients
Improve your invoicing to save time and stress
Have difficult conversations with editors and clients
Form the proper mindset to become a six-figure freelance writer
"When I began freelance writing in 2014, I was making a couple hundred bucks a month. At the time, I was writing for about $15 an article and had no idea how to grow my business. In fact, I didn't even know if it was possible to turn freelance writing into a full-time gig.
Fast forward to February 2017, I enrolled in Holly's course [Earn More Writing] and, within months, I was able to take my freelance writing business to a whole new level. I quit my full-time job in October 2018 and am now working from home earning a nice living writing.
Thank you, Holly for showing me that the sky is truly the limit and hard work and persistency pays off."
– Anna Baluch, Professional Copywriter & MBA in Marketing
Your Instructor
Holly D. Johnson
Holly D. Johnson
Holly Johnson is an award-winning writer and content creator who practically lives on the web.
In addition to serving as Contributing Editor for The Simple Dollar, Holly writes for well-known publications such as U.S. News and World Report Travel, Personal Capital, LendingTree, Bankrate, Fodor's Travel, and Frugal Travel Guy. Her work has been featured in The Wall Street Journal, Forbes, Fox News Business, Kiplinger's Personal Finance, CNN, the Indianapolis Star, and other premier publications.
With her husband, Holly also owns two websites of her own – Club Thrifty and Travel Blue Book. You can follow her on Twitter or Pinterest @ClubThrifty.
"Holly had been an inspiration to me long before she started Earn More Writing, so I jumped on the opportunity to take it when it launched.
The course is chock-full of actionable advice and tips that will guide you to earning more. Through Holly's course, I've developed and honed a lot of the skills that have helped me build a six-figure freelance writing business."
– Ben Luthi, Professional Freelance Writer
Module 1: Understanding Different Types of Online Content
Learn the three main types of online content you'll be asked to write
Understand what differentiates each type of content
Learn my tips and tricks to find jobs within each type of content
Module 2: How to Master Each Type of Online Content
Learn to create superior online content in all three major categories
Review various writing samples and explore detailed examples of how they can be improved
Get my best tips for becoming a better writer, no matter where you're writing
Module 3: Researching and Sourcing Basics
Understand how to properly research and source your articles
Learn how to differentiate good sources from bad (and why it's important)
Get tips for locating the best sources
Learn why using proper researching and sourcing techniques makes clients love you
Module 4: Productivity Tips to Earn $1,000 Per Day
Learn to identify high-maintenance clients and avoid them
Explore how you can increase your productivity by completing small tasks
Get my best tips for combating writer's block
Module 5: Finding Killer Clients
Understand and master the art of "warm pitching"
Learn about my favorite resource for connecting with high profile clients and publications
Learn how to locate clients who (probably) have the money to pay you
Module 6: Conversations You'll Need to Have
Understand why good communication with clients is essential to getting ahead
Learn to professionally communicate with clients regarding payment and the scope of your work
Learn how to set expectations and control the conversation
Read real-life examples of how I've responded to clients in sensitive situations
Get ideas for how you can respond to unreasonable clients in a professional manner
Module 7: PRO Tips for Adding More Value
Learn how to add more value and make yourself an important part of your client's team
Find out how to add value without seeming overly needy
Explore my nine favorite ways to add value with ease (and make more money in the process)
Module 8: Tracking, Invoicing, and Bookkeeping Basics
See the simple way I keep track of my assignments and due dates
Learn how to create a basic invoice (and why basic is better)
Find out how we handle our bookkeeping
Learn some of my favorite tricks for saving time and money on administrative tasks
Get suggestions about my favorite tracking, invoicing, and bookkeeping tools
Module 9: Mindset Rules for the Six-Figure Freelance Writer
Find out why the best writers don't always make the most money
Learn what matters and what doesn't when it comes to making money
Understand how structuring your day can help you achieve financial success
Get my favorite tips and tricks that successful writers use to get ahead
""I'm very skeptical of courses that promise a lot and don't deliver. Holly's course is the real deal.
When I purchased her course [Earn More Writing], I had just had a baby. I struggled with wanting to work but I also knew that I couldn't keep up with my time-intensive consulting work with a newborn at home. I thought writing might be a way for me to do work that didn't require me to spend hours in client meetings.
After the course, I went from writing for fun (and as a way to promote my consulting business), to being paid well to write articles. Writing is now a significant portion of my income and I couldn't be happier."
– Erica Gellerman, MBA, CPA, and founder of The Worth Project
I think you're going to love this course and get a ton of value out of it. But, don't take my word for it! Here's what some more of my students had to say:
"Holly's course is hands-down the best investment I've ever made! It more than paid for itself within the first couple of weeks of applying her advice. This is my third month as a full-time freelance writer and my income is about to match my salary from my full-time job."
– Veneta Lusk, Freelance Writer & Owner of BecomingLifeSmart.com
"I started freelance writing as a way to make some money while I looked for a fulltime job after mine had been eliminated. For months, I had only one client and could not find the way to increase my client base…The first client I signed as a result of the advice in the course more than paid for the cost, and I just signed my fourth client. It works if you work it! I've decided I no longer need to find a fulltime job."
– Deena Hosmer, Freelance Writer & Owner of DJ's Dreams and Shoestring Digital Design
"Holly's course completely changed my freelance writing career. Before taking the course, I was earning a few hundred dollars a month writing. In a little over a year, I was able to earn $5,000 in a single month. Holly's advice is practical, helpful and the honest truth that every successful freelancer needs to hear."
– Sarah Sharkey, Freelance Writer & Owner of AdventurousAdulting.com
"Holly's Earn More Writing Course is easily the best investment I've made in my writing career. I work full time but would love to make enough through writing to replace that income. "Earn More Writing" was the catalyst to get me on my way to just that. I've been able to build a solid portfolio, gain some initial paid writing gigs, build a following on social media, and develop relationships with other freelance writers to secure several long-term writing gigs that pay more."
– Kevin Payne, Freelance Writer & Owner of FamilyMoneyAdventure.com
"I knew I had the writing chops but didn't know how to market myself or build a viable freelance writing business. I looked to Holly's Earn More Writing class a bit nervously because I wasn't sure what to expect, but figured I had nothing to lose. I was pleasantly surprised by her realistic and no-nonsense approach…I am still going back to Holly's steps for building a writing business, continuously adjusting them to fit my own goals. Holly gave me the jump start I needed to re-imagine what I'm capable of doing."
– Marie Morganelli, PhD, Freelance Writer & Owner of PreciseWords.org
"Holly Johnson's Earn More Writing course gave me to tools I needed to successfully launch my freelance writing career. From how to pitch, how to be the freelancer editors love working with, and how to manage my time to maximize earnings, EMW delivered the goods. That's because Holly is the real deal; she makes her living as a freelance writer, and she knows from experience what works and what doesn't…I highly recommend Holly's EMW course to anyone serious about building their freelance writing business."
– Sandra Parsons, Freelance Writer & Behavioral Finance Expert
Frequently Asked Questions
When does the course start and finish?
The course is a completely self-paced online course – you decide when you start and when you finish. Take it slow and complete one module per week, or blow through the whole thing in a day or two. It's your choice. Remember, your membership gives you access to the course materials for an entire year. (Please note: To get the most out of the course, we recommend pacing yourself. Each module has actionable steps you should complete. We suggest finishing those steps – or at least starting them – before moving on.)
What level of experience do I need to have to start?
Anybody who wants to make more money as an online freelance writer can benefit from this course. With that said, this is a master course in online freelance writing, and we explore some more advanced topics than what we cover in the flagship course, Earn More Writing. Whether you're an experienced pro or a newbie, we highly recommend you take the original Earn More Writing course BEFORE going through the PRO version. (Psst…you can even buy them together!!!) That way, you'll be up to speed and can hit the ground running when you start the PRO course. With that said, we do explore some more advanced topics than what is covered in the flagship course.
How long do I have access to the course?
After purchasing a membership to "Earn More Writing PRO," you'll have unlimited access to this course for one year.
I want to purchase the original "Earn More Writing" course as well. Can I get a discount?
Yes. With your membership to "Earn More Writing PRO," you may add a membership to our original "Earn More Writing" course at a significant discount. (Please note that discounts are only available at the time of the original purchase.)
Can you guarantee my results?
Of course, we can't guarantee your results. No matter how much knowledge we give you, it's still up to you to make it happen.
What if I am unhappy with the course?
We think you're going to love this course and get a ton of value from it. However, if you are unsatisfied with your purchase, contact us in the first 30 days and we'll give you a full refund.
Rise Above the Competition with Earn More Writing PRO
Want to know separates a good freelance writer from a great one? Earn More Writing PRO can help.
I created this master course to answer more of your questions and dive even deeper into the issues that really matter to freelancers who want to take the next step in their career. With Earn More Writing PRO, my goal is to help you become a more professional freelance writer who stands out from the crowd and is always in demand.
I'm super excited to share this information with you, and I think you're going to get an enormous amount of value from it. Thanks for your interest, and I can't wait to see you in the course!
Internet Marketing Course
Digital marketing is the component of marketing that utilizes internet and online based digital technologies such as desktop computers,
mobile phones and other digital media and platforms to promote products and services. Its development during the 1990s and 2000s,
changed the way brands and businesses use technology for marketing. As digital platforms became increasingly incorporated into marketing plans and everyday life,
and as people increasingly use digital devices instead of visiting physical shops, digital marketing campaigns have become prevalent,
employing combinations of search engine optimization (SEO), search engine marketing (SEM), content marketing, influencer marketing, content automation,
campaign marketing, data-driven marketing, e-commerce marketing, social media marketing, social media optimization, e-mail direct marketing, display advertising,
e–books, and optical disks and games have become commonplace. Digital marketing extends to non-Internet channels that provide digital media, such as television,
mobile phones (SMS and MMS), callback, and on-hold mobile ring tones. The extension to non-Internet channels differentiates digital marketing from online marketing.
More Course: INTERNET MARKETING
Outstanding Course:Teo Vanyo – Social Stinger Private Mastermind